Bob Rae
Former Premier of Ontario & Federal Liberal Leader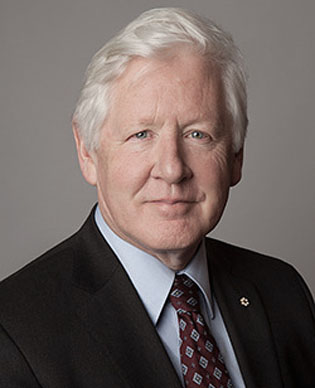 Bob Rae is a senior partner at Olthuis Kleer Townshend LLP. He was elected 11 times to the House of Commons and the Ontario Legislature between 1978 and 2013. He served as Ontario's 21st Premier from 1990 to 1995, and Interim Federal Leader and foreign affairs critic for the Liberal Party of Canada from 2011 to 2013. In 2011, he was chosen by his colleagues as Parliamentarian of the Year.
He works with First Nations across Canada as legal counsel, adviser, negotiator, and arbitrator. He brings decades of experience as a lawyer and public leader at the highest levels of government. He also has a strong background in negotiations, strategic planning and community and economic development. His legal practice focusses on First Nations, Aboriginal and governance issues.
Rae acts as Adviser to the Matawa Chiefs Tribal Council in respect of the potential development of the area in northwestern Ontario known as The Ring of Fire. He is also Chairman of the First Nations Limited Partnership (FNLP) in British Columbia, in addition to providing legal and strategic advice.
Rae has written four books:
From Protest To Power
,
The Three Questions
,
Canada in the Balance
, and
Exporting Democracy
.
He graduated as a Rhodes Scholar from Oxford University in 1971 and University of Toronto Faculty of Law in 1979. He was named Queen's Council in 1984. He has received numerous honorary degrees and dwards from universities, colleges, and a wide assortment of organizations across Canada and abroad for his public service. He was appointed to the Privy Council of Canada in 1998, named an Officer of the Order of Canada in 2000, and received the Order of Ontario in 2004.